JUVENO® Hip System
FIT BETTER, LIVE BETTER
Lead Designer:
Richard H. Rothman
, M.D., Ph.D. (1936-2018) Founder of the Rothman Institute
Size Specific
Medial Curvature
Offers increasing proximal and distal conformity to enhance primary stability 1 , and reduces the risk of intraoperative fracture 2.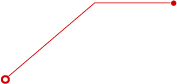 Hydroxyapatite (HA) coating

Commercially pure titanium
porous plasma spray (PPS)
PPS and PPS+HA options included. Contact your local sales representative to determine availability in your region.